Welcome New Artists
LabourLove Collective
Kelly Cross
Kelly Cross studied photography at San Francisco Art Institute where he received his MFA.  After working as a freelance massage therapist for 18 years, he decided to explore working with clay.  Clay evolved into painting. Currently, he studies privately under Margie Stewart and paints mostly with oil using a palette knife. Kelly Cross' subjects range from figurative to abstract.
Roberta Wallace
My images are hand-made—not digital, although I do sometimes use a sewing machine to make photo "collages." I have enjoyed printing in various darkrooms—Durham Arts Council, Duke's Center for Documentary Studies, and my home darkroom.
My photographs are about mystery, mood, observation and remembrance. . .. aspects of the images often seem already imbedded in my memory,  possibly as they possess some formal characteristic of previously seen works of art—a cubist painting, a rich black ink calligraphy script,  a scene from a film noir.  Bringing them forth is a joy.
Ngozi Design
Ngozi is an Igbo word (Nigeria) that means blessed. Designer Andrea Carter created the Ngozi Jewelry Collections in 2009 with a desire to bring handcrafted bold, beautiful, high quality jewelry and accessories to the local marketplace with great customer service and fair, affordable pricing. Last year Mariama by Ngozi was launched, expanding the company offerings with clothing, accessories and more! Ngozi jewelry, clothing and accessories transform expectations by blending ideas. We take inspiration from classic pieces that breathe a timeless aesthetic found in the spirit of cultures around the world and infuse a design perspective that's trend right and relevant for women, men and children. Custom orders are accepted and satisfaction is guaranteed!
Happenings at Golden Belt
Cow Parade, North Carolina
Cow Parade is coming to the Triangle this summer! We're thrilled to announce that Golden Belt is going to be a hub of activity for cow delivery, cow painting, and cow 'round-up'. Building Six at GB will be a showcase of cow creation over the next few months, serving as home base for several cows and their artists, and the campus will host multiple completed cows for the remainder of 2012. We're very excited about the 'round-up' in August, during which all of the completed cows will be located at Golden Belt before heading out to various points in the Triangle. NC Cow Parade's timeline is still firming up, so bear with us, we will send updates as we have them, but this will happen over the course of several months. This is a great event, benefitting the North Carolina Children's Hospital. For more information on Cow Parade NC, please visit their website at 
www.cowparadenc.com
 or like them on Facebook.
Artists Around Town
LabourLove Artists around the Triangle
Kelly Dew and Lee Moore Crawford at Bull City Craft
Artist Reception
Thursday, June 28, 6-9pm
2501 University Drive, Durham, NC
Bull City Craft
 will host an exhibition and reception for LabourLove artists
 Kelly Dew
 and
Lee Moore Crawford
. The reception will be family-friendly and will feature a free craft as well as refreshments.  Come out and enjoy a summer evening of art, fun and crafts.
Maureen Wartski
:
Maureen Wartski
 will be highlighting the Sun– and a bit of the Moon– at LaborLove in June.
Greg Patch:
Ongoing show at Chapel Hill Town Hall with Jane Levy and Gracelee Lawrence thru June 28 th.

Outside of LabourLove
Outsiders Art and Collectibles, support our friend Pam Gulton!
Outsiders Is Growing … Join In The Magic!
A message from our friend Pam Gulton who owns and operates Outsiders Art and Collectibles located at 718 Iredell St., Durham.
Outsiders Art & Collectibles is an amazing space. In just 2 and a half years, the gallery has hosted more than 30 exhibits and has successfully introduced Durham to Outsider artists and their art.
What you may not know is we also host everything from fundraisers for Student U, to a concert with visiting musician David Berkeley, to Sven and Emma's wedding, not to mention all the benefits, crowd funding events and auctions for start-ups. I know it's a lot, but part of the 'magical' feeling stems from all these activities that have made Outsiders Art & Collectibles a place of community that is integral to the evolving Durham cultural scene.
I want to turn our physical space into an actual non-profit. This would allow me to continue to offer the space to the community at a nominal cost and, rather than using revenue from the gallery to support events, I can apply for grants to cover the costs of administration, utilities, and programming. With our location and huge parking lot, I have no doubt that the space will continue to be in high demand.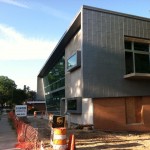 Outsiders Too – 721 Broad (Aug 2012)
In addition, I've committed to renting 300 square feet in the newly renovated 721 Broad Street for Outsiders Too, a new retail location for the gallery.The building, located right behind Outsiders Art & Collectibles on Iredell Street, is close enough to coordinate all of the activity, but a whole world away in terms of daily traffic and the potential to introduce even more people to Outsider art. The building will also be home for, among others, the American Dance Festival and Amy Tornquist's new bakery. Outsiders Too will open August 1st, when the renovations are complete and we join the other businesses using the new space for the grand opening.
So here's the Ask: I need your financial support to transform the Iredell space into an even better community asset by adding some finishing touches. This includes putting in real gallery lights, instead of the fluorescents, adding a hanging system for exhibits, putting in a sound system that can be heard in all three rooms and turning the kitchen into an actual working kitchen fully stocked for community events. In addition, your support will allow me to up-fit the new space with similar lighting, hanging systems and music. With several thousand dollars, I know we can build upon the current successes.
What do you think? If you're on board, PLEASE DONATE! No amount is too little or too large. in case you were wondering! As an added incentive:
For $25 or more you will receive my eternal gratitude (actually any amount will receive my gratitude, but I wanted you to know that for $25 it was a sure thing).
For $100 or more I'll add a limited edition bumper sticker designed by nationally renowned outsider artist Cher Shaffer
For $250 or more you will be invited to a private reception with Cher Shaffer when she is at Outsiders in November for her solo show.
You can donate by clicking the button, or write a check payable to Outsiders Art & Collectibles and bring it by (or mail it to) the gallery: 718 Iredell Street, Durham, NC 27705. If you prefer, you can call me with a credit card at 919-451-3231.